Lever Interactive recently attended the annual Google Marketing Live event in San Francisco, which is typically the forum to discuss the launch of new features announcements within the Google Advertising platforms, and this year was no different. While there were many exciting announcements made during the conference, two that were especially noteworthy are the monetization of Google's Discover feed for the first time, and the expansion of Google Standard Shopping campaigns across Google platforms.
What is the Google Discover feed?
Google's successful foray into a social media-type news feed (R.I.P. Google+) with estimates that there are 800 million users that use the Discovery Feed each month. Formerly known as Google Feed, Google Discover ads will serve across the Google Discover feed, YouTube home feed and the social and promotions tabs in Gmail. Users can customize their feeds to include topics of interest to them.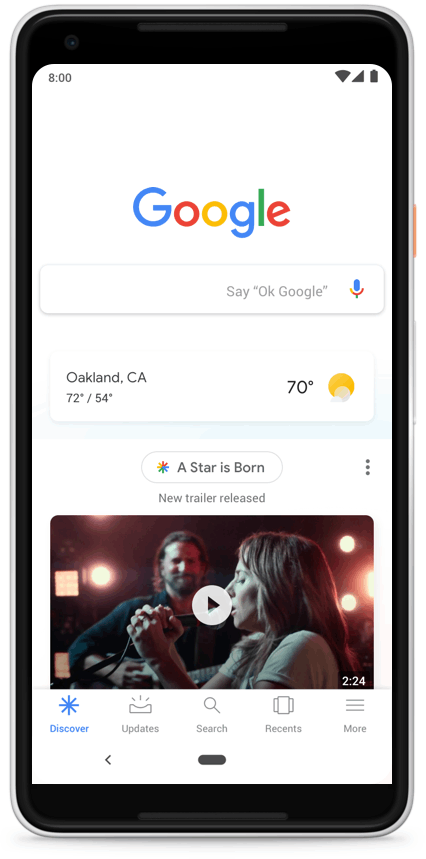 You may be thinking that these ads will be a disruption to the user's experience but it's quite the contrary. Just like other campaign types available on Google Ads, Google will be utilizing in-market, interest, and custom intent audiences to target users. So, while a user is scrolling through the Discover feed uncovering organic content that's relevant to them, they'll also be presented with an interactive ad experience that's also relevant to them.
When setting up ads within Google ads you'll notice that they're quite similar to dynamic display ads or responsive search ads. You will be asked to provide at least one image, a logo, and up to 5 headlines and descriptions. Then, with machine learning, Google will test different combinations of the assets provided to find the best match up based on user interaction. The utilization of a combination of different headlines, descriptions, and images will also save users from being burnt out on your ads and consistently provide them with a unique and creative experience from your brand.
One thing that's important to mention is that Discovery campaigns are currently still in closed beta and only available through preferred agencies and vendors – like Lever Interactive. It will be available to all advertisers later this year.
Expanded Standard Shopping Campaigns
Another takeaway was that Google will be expanding Standard Shopping campaigns to additional Google platforms in the coming months.
Google already lets advertisers show PLAs (product listing ads) on the Google Display Network and YouTube with Smart Shopping campaigns, but these campaigns are highly automated and Google provides limited insights and data on performance.
Standard Shopping campaigns allow advertisers to have more control over their bids and allows advertisers to have more data insights on performance. By allowing Standard Shopping campaigns to show on additional placements (Google platforms), advertisers (who use Standard Shopping campaigns) will be able to reach new potential customers and/or re-engage with a customer while they are browsing or watching videos.
Both Shopping campaign types are able to show ads on Google Discover. The addition of Google Discover placements to available shopping inventory aligns with industry trends, as customers have become more accustomed to seeing ads while engaging in content, whether it be browsing the web or watching videos. Therefore, the PLA ad format shouldn't feel out of place for users within Google Discover. Since PLAs drive to the actual product page that the ad is showing, it's a better user experience and performance should theoretically be stronger than other ad formats.
At Lever, we are looking forward to further testing the advantages of these new placements and platforms for our clients and reporting our learnings in the future.
You May Also Be Interested In